News & Events
Invitation for Auction on 02.03.2018 at Al Khaled Farm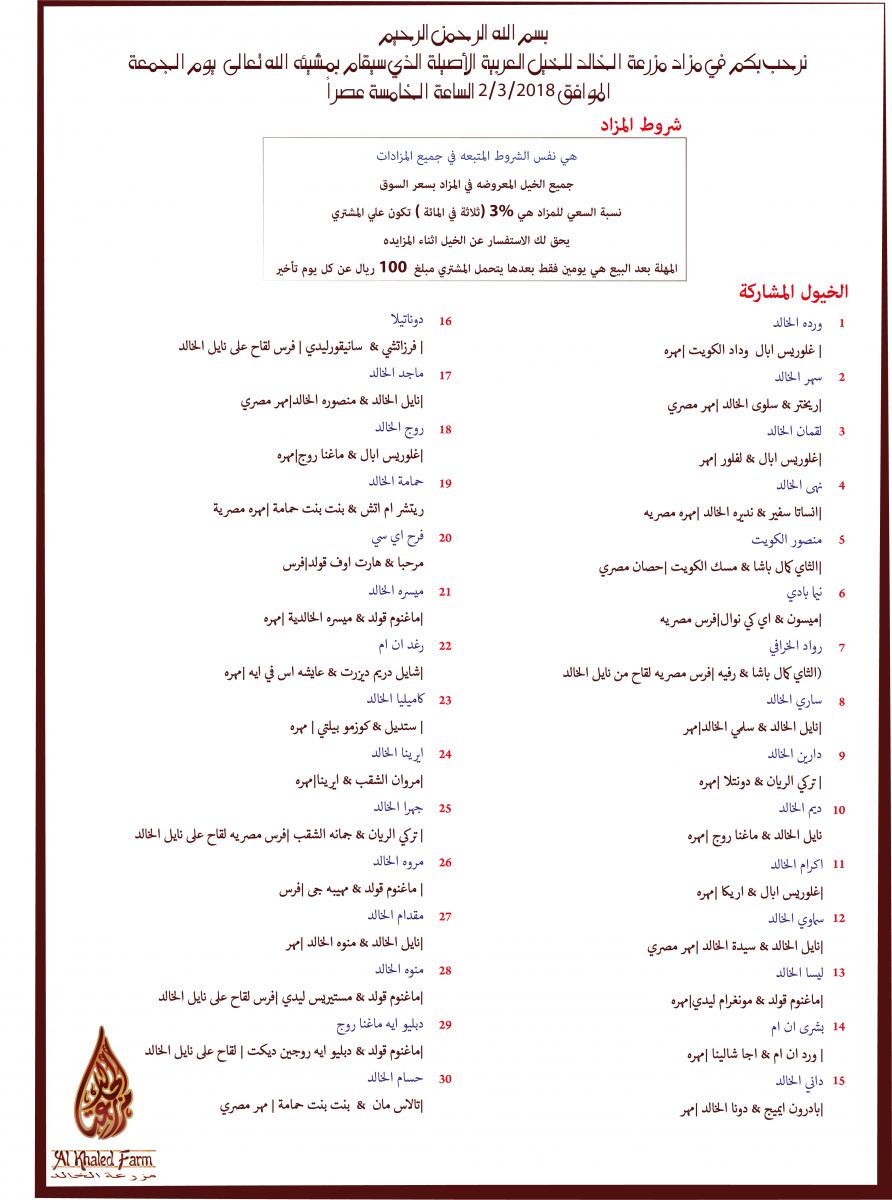 Alkhaled Farm is pleased to announce its auction dated: Friday, March 2/2018 after Asr prayer that will be located at the farm premises.
Note that: There will be no fees for the organizers. Furthermore all horses will be sold at the market price.

Looking forward to welcoming all participants
Best of Luck to all.
you can check further details of horses.
| | | | | | |
| --- | --- | --- | --- | --- | --- |
| Sr | Horse Name | Sr. | Horse Name | Sr. | Horse Name |
| 01 | Warda Al Khaled | 11 | Ikran Al Khaled | 21 | MAYSARA Al Khaled |
| 02 | Sahar Al Khaled | 12 | Samavi Al Khaled | 22 | RAGAD NM Al Khaled |
| 03 | Lukman Al Khaled | 13 | Lisa Al Khaled | 23 | |
| 04 | | 14 | Bushra Al Khaled | 24 | Irina Al Khaled |
| 05 | Mansour Elkuwait | 15 | Dany Al Khaled | 25 | |
| 06 | Nima Al Khaled | 16 | | 26 | |
| 07 | | 17 | Magid Al Khaled | 27 | Mikdam Al Khaled |
| 08 | Saari Al Khaled | 18 | | 28 | |
| 09 | Dareen Al Khaled | 19 | Hamamaa Al Khaled | 29 | |
| 10 | Deem Al Khaled | 20 | | 30 | HUSSAM Al Khaled |