Al Khaled Farm story
The Beginning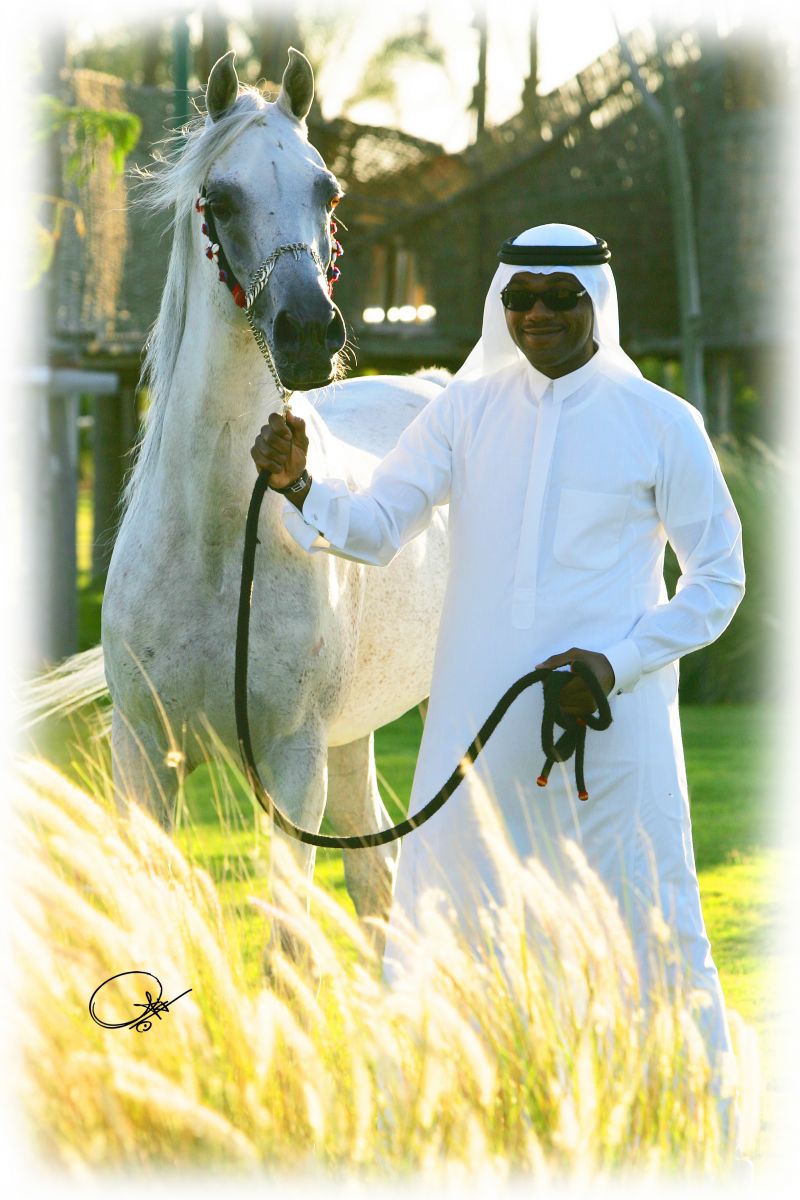 As a young boy growing up in the Kingdom of Saudi Arabia, Sheikh Khaled Ahmed Bagedo remembers the first time he saw a horse as if it were yesterday. "I knew instantly that I wanted to be close to it," he recalls, "and not only that, I was determined to ride the horse right from the start." Many of the onlookers on this auspicious occasion thought the boy was far too small to ride and would likely be terrified the moment he was put atop the horse. Yet the horse's owner, a member of the Saudi Royal family, allowed the child to climb aboard and take his first ride. As with many who have experienced that magical feeling, the joy the young Khaled felt was indescribable.

After a lifetime with horses, including tremendous success as an owner and breeder of winning Arabian racehorses, Sheikh Khaled turned his attention to perhaps the most challenging of all equine pursuits – developing a serious breeding program. Today, a visit to Al Khaled confirms his dedication to this goal: the paddocks and stables are filled with beautiful horses, and, more importantly, a group of exquisite foals which herald the promise of a bright future.
As a renaissance of interest in Arabian horse breeding sweeps across the ancestral homelands of the breed, many in the region have looked to the straight Egyptian to foster their cultural heritage. The breeding program of Al Khaled Farm is an excellent example, as Sheikh Khaled has selected horses from some of the finest Egyptian breeding programs in the world to shape his own program. Before choosing his bloodstock, Sheikh Khaled often visited the breeding farms he admired, carefully observing what families and crosses were successful. "My own philosophy in acquiring horses was not to duplicate exactly what others were doing," he explains. "I did not want to limit my options by beginning inside a 'box.' Instead, I gathered a variety of bloodlines and families so that I might begin to shape my own program and determine over time what is working well and what is not."
The Mares
A visit to Al Khaled is a celebration of the type and beauty that characterizes the Arabian breed. History is also respected here, and it is history that tells us an Arabian breeding program must be constructed around its mares to succeed. Like the Bedouin who bred horses for centuries in Sheikh Khaled's homeland of Saudi Arabia, he also has based his program on specific strains and families. The herd features four primary strains – Dahmah Shahwaniah, Saqlawiyah Jidraniyah, Hadbah Enzahiyah and Abbeyah Om Jurays – as well as carefully selected families within those strains.

Al Dahmah

"Behold her pleasing shape which attracts the eye of all who see her," wrote the poet Shahwan about his Dahmah mare. The h ighly successful Bukra family of the Dahmah strain is represented at Al Khaled by Ansata Allegra, an Ansata Halim Shah daughter out of a Jamil daughter, a cross which produced many superb horses for the world-renowned Ansata Arabian Stud. From the same family comes the exquisite Ayda Sakr, bred by Sakr Arabians whose breeding program boasts some of the most beautiful straight Egyptians in the world. Ayda's graceful femininity reflects a blending of the two dam lines that are the foundation of Sakr Arabians, Alidarra and Ansata Nefisa, and her first foal for Al Khaled, an exciting colt by Ansata Safeer, ensures her place as an important element in the farm's breeding program.

Three other Dahmah families, all tracing to Farida, are also represented at Al Khaled. From Halima, through the German branch of the mare Malacha, are two mares from the Qatar studs Al Rayyan and Al Shaqab. Jumana Al Shaqab is a daughter of the Nabiel son Sabiell out of the marvelous mare Ansata Malaha, who was a successful show mare including Top Five at the World Championships in Paris. Jumana, like her dam, is a snow white mare who demands attention with her enthusiastic snorting and blowing when presented at liberty.
Kareema Al Rayyan is a Safir daughter whose granddam, Ansata Majesta, is an important foundation mare for the world-famous Al Rayyan Farm and also a full sister to Ansata Malaha. El Thay Sherifa El Dine is yet another Al Khaled mare tracing to this same family. Her sire is the influential Salaa el Dine, and her dam, the beautiful El Thay Bint Kamla, is a full sister to the farm's stallion El Thay Khemal Pasha. From the EAO-bred branch of the Farida family is Bashaer Al Khaledya, one of the farm's five Alidaar daughters. A compact mare with the coloring and marking typical of her sire, she is out of Izeema, whose father, Ibn Nazeema, a rare grandson of both Moniet el Nefous and Alaa el Din, resides at Al Khaled Farm.

Classic Dahra, another of the farm's prized Alidaar daughters, and one of three bred by Classic Arabians of France, represents the Bint El Bahreyn branch of the Dahmah strain. True to her name, she is a classic mare with a beautiful head and deep jowl. Linebred to *Morafic, Dahra has many features reminiscent of her grandsire, *Ibn Moniet el Nefous. From the same family comes Ni Ma Abadi, a Maysoun daughter bred by Rosemarie Kolster of Germany. A big, bold mare with superb tail carriage, her dam, AK Nawaal was a famous beauty sired by The Egyptian Prince out of the *Ansata Ibn Halima daughter, Dahmah Shahwaniah. An excellent broodmare, two of Ni Ma Abadi's fillies have been retained at Al Khaled. The first is the double Maysoun granddaughter Subh Al Khaled by Amun Re, and the second is the charming Niema Al Khaled by El Thay Khemal Pasha.

The final branch of the Dahmah strain at Al Khaled is that of Bint Sabah as represented by Yamamet Al Khaledya and Tala Al Khaled, both bred by the farm. A graceful mare who is particularly elegant in motion, Yamamet is sired by World Champion Al Aadeed Al Shaqab out of the EAO-bred mare Rahamat, who is an Adl daughter. Tala Al Khaled, her delightful daughter sired by Tabayan Al Qusar, is a compact filly with a gorgeous face whose appearance reflects her strong Dahmah breeding.

Al Hadbah

The bay, or kumait is highly regarded in the lore of the Arabs, and the exquisite mare Shabura HP is the star of the Hadbah Enzahiyah strain at Al Khaled. A poem of a mare, she has an exceptionally lovely profile – the epitome of Arabian type – and is sweet in repose while exceptionally charismatic in motion. Sired by Maydan Madheen out of the Anaza Bay Shah daughter Shahneekha, this highly successful cross resulted in five full siblings which each won their foal class at the Egyptian Event Europe. Al Khaled Farm is blessed with two of the siblings, the second being the grey mare, Sadah Madheen, who is also of outstanding quality. Both have produced fillies for Al Khaled. Shaymaa Al Khaled, out of Shabura HP by Ansata Safeer is the type of exotic filly that every Arabian farm in the world dreams of producing, while the 2007 filly, Sukayna Al Khaled out of Sadah Madheen, sired by El Thay Khemal Pasha, is also a wonderful addition to the farm. Baheya Ikhnatoon, sired by Ibn Akhtal out of a Gad Allah daughter is another Hadbah Enzahiyah mare, representing the family of Yosreia. She is an extremely leggy mare who is a strong and athletic mover and whose pedigree reflects many of the most successful sire and dam lines of the EAO.
Al Saqlawiyat
"I have found as a result of my many experiments that horses of the strain of Saklawi Jedran were the most courageous." wrote Prince Mohammed Ali of Egypt.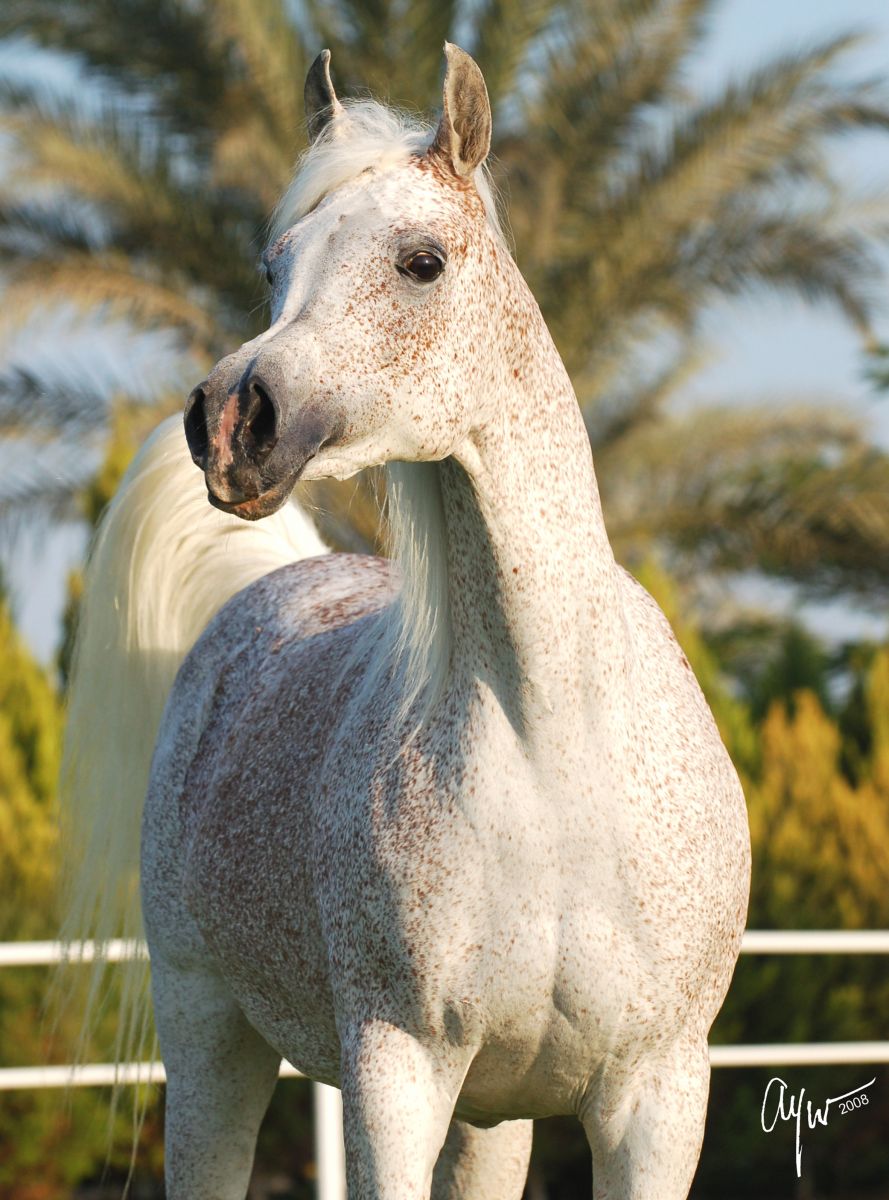 Certain Arabian horses exhibit a look and quality that simply transcends time. With her large dark eyes, flea-bitten color and strong character, Classic Rashma is just such a mare. While bred in France, her pedigree reflects the joining of two landmark breeding farms in the United States – Gleannloch and Rancho San Ignacio. Her sire Alidaar, a full brother to Ruminaja Ali, is now a senior stallion at Al Rayyan, and her dam, AK Raiyeh is a daughter of The Egyptian Prince and a granddaughter of the wonderful Bint Moniet El Nefous. Classic Rashma possesses the refinement and elegance that is often associated with her Saqlawiyah Jidraniyah strain, and her daughter by El Thay Khemal Pasha, Soha Al Khaled, is also being retained by the farm.
Other beauties of the Saqlawiyah strain at Al Khaled include Mahrana Al Sabah, a lovely and well-balanced mare by Ansata El Salaam out of Mathea M, who is a full sister to the successful sire Maydan Madheen. She has proven her worth as a broodmare with a wonderful colt by Ansata Safeer, Sari Al Khaled, whose chestnut color, width of forehead and beautiful eyes are reminiscent of the famed broodmare Ansata Samantha, who appears on both sides of his pedigree. From the Zaafarana branch of the Saqlawiyah strain comes Kholoud Al Khaledya, a chestnut mare that was the first female bred by the Al Khaled program. Sired by Ibn Nazeema out of the Ruminaja Ali daughter BSA Kastana, she has produced the charming Wafa Al Khaled by El Thay Khemal Pasha, as well as a filly by Ansata Safeer. Samara El Naarah is another Saqlawiyah mare of grace and femininity who represents the straight Egyptian bloodlines of Germany. A daughter of El Thay Ibn Halim Shah, Samara also has a lovely character, an inward attribute which is reflected in her outward beauty. Zaafarana Al Rayyan, named for the family of the Saqlawiyah strain she represents, is a deep-bodied mare with beautiful eyes sired by the Salaa el Dine son Safir out of Bint Bint El Araby who is a granddaughter of the spectacular *Morfic son El Araby. Zaafarana's daughter, Zeina Al Khaled is yet another example of the wonderful foals that Ansata Safeer is producing for the farm.

Al Abbeyat

El Obeya Om Grees, a gift from King Abdul Aziz Al Saud to the Royal Inshass stud of Egypt during the early 1930's, is but one example of the strong ties between the horses of Arabia and Egypt, and all modern Egyptian Arabians of this strain trace to her. While the Abbeyah Om Jurays are relatively few in number, two esteemed broodmares, Hanan and *Magidaa, have ensured that many of the finest straight Egyptians in the world trace to this strain. At Al Khaled, the elegant Nefertiti blends both of these mare lines. A daughter of Alidaar, she is out of the double Hanan mare, Nessma, who is a granddaughter of two major stallions of Dr. Hans Nagel's famed program, Salaa el Dine and Jamil. Nefertiti has already given the farm a bay filly, Nadirah Al Khaled, by El Thay Khemal Pasha. Also tracing in tail female to the legendary Hanan is RN Al Shahba, an Ameer Albadeia daughter bred by Al Rayyan.
Her dam is the beautiful Jamil daughter, Ameena. From the Marah branch of the Abeyyah strain comes Classic Madaraa, another of the farm's prized Alidaar daughters, as well as Mansoura I, an excellent mare from this family. A daughter of the Ansata Halim Shah son Maysoun, she is the dam of a grey filly by El Thay Khemal Pasha, Maymoonah Al Khaled, as well as a new filly by Ansata Safeer.

The Stallions

Representing several world-class breeding programs, the stallions of Al Khaled Farm provide a strong foundation for the future of the farm. Although they each feature different influential damlines, it is interesting to note that all of them represent the sire line of the immortal *Ansata Ibn Halima.

El Thay Khemal Pasha, the stallion that has been most heavily used since the Al Khaled breeding program began, represents the El Thayeba breeding program of Germany. He has compelling eyes – huge, dark and intelligent – combined with a smooth body, wonderful tail carriage and good balance. While his pedigree includes two crosses to Ansata Halim Shah, a stallion who revolutionized straight Egyptian breeding in Europe and the Middle East, it also features the finest of German Egyptian blood. It is an easy task to spot the foals of El Thay Khemal Pasha at Al Khaled Farm, as they have distinctive width between the eyes, wonderfully shaped ears, and a joyous attitude. Moncif Al Khaled, a 2005 colt out of Jumana Al Shaqab, has been retained for the future, as have several charming fillies.

After producing several outstanding horses for Royal Jaafar Stud in Jordan, Ansata Safeer has recently joined the Al Khaled herd and judging by his first foal crop for the farm, he will make a tremendous impact on the future of the program. Bred by Ansata Arabian Stud, he is sired by Ansata Hejazi out of the Prince Fa Moniet daughter, Ansata Samsara, and combines two of Ansata's most successful damlines – that of Ansata Sudarra and Ansata Samantha. A powerful stallion with an excellent body, his foals have incredible elegance, superb set and length of neck, and wonderful structure, while retaining the superior attributes of the mare.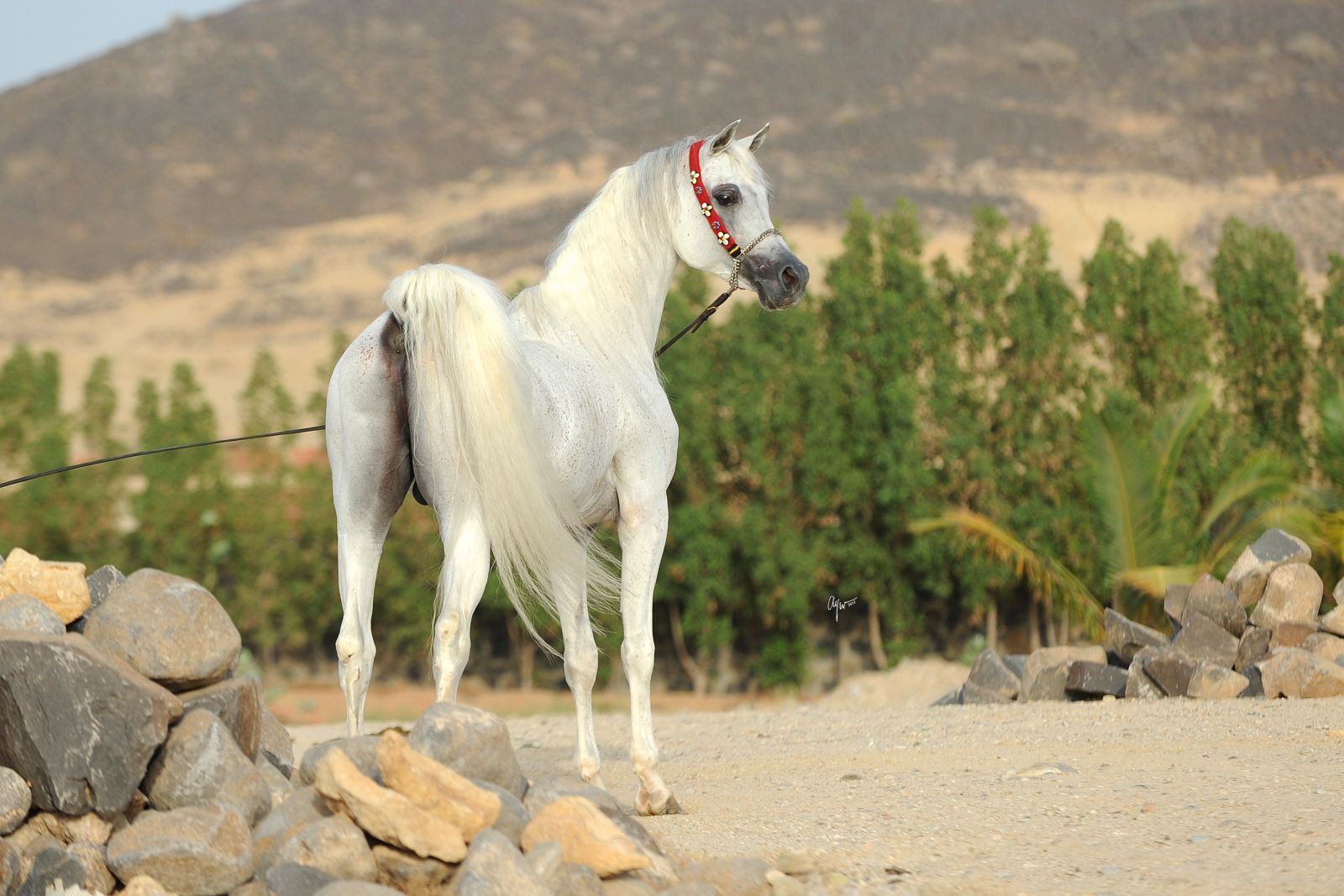 The young stallion Turki Al Rayyan was selected from the world-famous herd at Al Rayyan as just a weanling. "I liked this colt immediately," explains Sheikh Khaled, "and told Sheikh Abdulaziz that if he would let the colt go, I would like to buy him." Like countless young colts, an awkward stage followed and Sheikh Khaled was questioned frequently about why he chose that particular colt. Rather than justifying his selection, Sheikh Khaled simply answered, "We'll see," each time he was asked. Indeed, by the time the colt was named Junior Champion at the Qatar National show, no more questions were forthcoming. An exciting young stallion with wonderful type, Turki Al Rayyan is bold and determined, quite reminiscent of a gallant warhorse of centuries past. A son of Ashhal Al Rayyan, his dam is the exquisite Turkiya Al Rayyan, making him double Safir and a nice blending of the Dahman and Abbeyan strains. Sheikh Khaled has generously allowed him to go to the Turban Stud of Denmark on lease where his first foals will be anxiously awaited.

Richter MH is the newest addition to the stallion roster at Al Khaled. For those who have seen this stallion in the flesh, the word charisma might have been invented just for him. A product of the Rancho Bulakenyo breeding program in the United States, he is sired by their stallion El Halimaar, an *Ansata Ibn Halima son who is out of the superstar broodmatron RDM Maar Hala. Richter's dam is a daughter of the ethereal *Farazdac and traces in tail female to Yosreia, dam of Nazeer. A successful show horse in both the U.S. and Europe, Richter MH was owned by Count Zichy-Thyssen of Argentina before becoming a part of the Al Khaled herd. Well aware that no single stallion is the answer to all mares, Sheikh Khaled spent considerable time with the breeder of Richter MH, Dr. Jody Cruz, to discuss which mares in the Al Khaled are best suited for this exciting stallion.

The Future
An interest in the Arabian breed does not stop with just the breeding program for Sheikh Khaled Ahmed Bagedo, as he strives for excellence in every endeavor, and believes that education is always the key to success. These high standards are reflected in the way his horses are cared for and led to his selection of Mieke Opsteyn to manage the farm.

A recent event hosted at Al Khaled, entitled, "The Arabian Horse in Art and Life," is a perfect example of the synchronicity of breeding, education, and appreciation for the Arabian horse embodied by the farm. While a group of breeders from around the world were treated to unrivalled hospitality, including a magnificent dinner and showing of the Al Khaled horses, they were also introduced to Sheikh Khaled's patronage of a landmark art project by Karen Kasper in a perfect blending of art, education, and the living cultural heritage that is embodied by the Arabian horse. Combined with a preview of the first results of Al Khaled's second foal crop, there was a shared sense of anticipation about the future accomplishments of the farm. With such a marvelous group of horses there is every expectation of extraordinary results, and indeed, a recent filly sired by El Thay Khemal Pasha out of an Adl daughter is a perfect example – the type of foal that creates excitement even in the most discriminating program. Yet Sheikh Khaled understands that breeding is not an exact science. He knows the joys of success are often tempered with disappointments and set-backs, and to triumph take patience and time. When asked about the future of his program at Al Khaled he simply answers with a smile and says, "We'll see…."
Written by Cynthia Culbertson