News & Events
Invitation for Auction at 08.01.2016 at Al Khaled Farm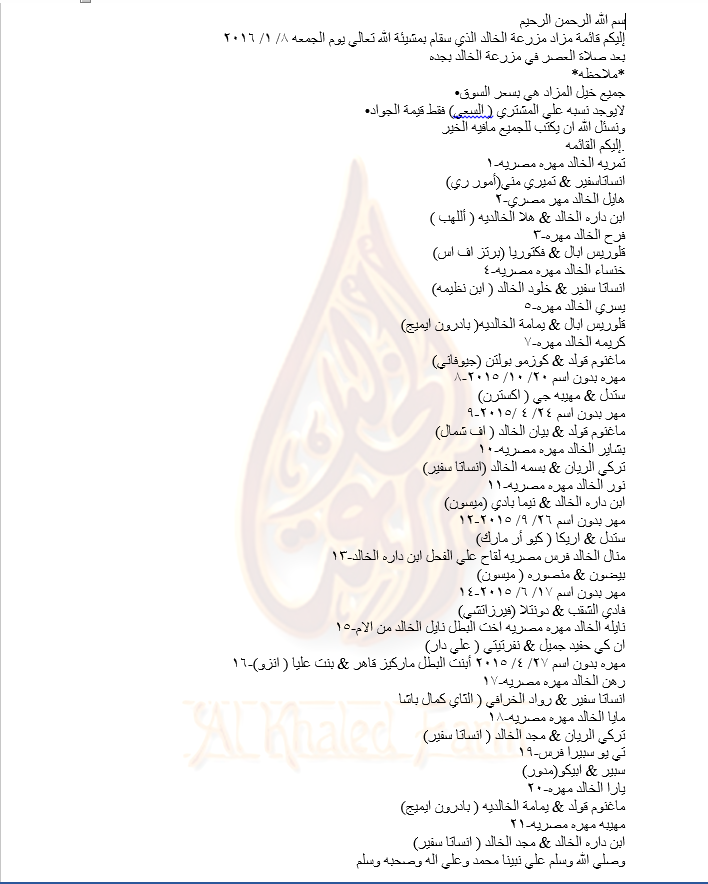 Alkhaled Farm is pleased to announce its third auction dated: Friday, January 8/2015 after Asr prayer that will be located at the farm premises.
Note that: There will be no fees for the organizers. Furthermore all horses will be sold at the market price.
Looking forward to welcoming all participants
Best of Luck to all.
1 - Tamria Al Khaled
Ansata Safeer x Tameri Mouna
2 - Haiel Al Khaled
Ibn Dahra Al Khaled x Halla Al Khaledya
3 - Faraah Al Khaled
Glorius Apal x Victoria CH
4 - Khansa Al Khaled
Ansata Safeer x Kholoud Al Khaledya
5 - Yusra Al Khaled
Glorius Apal x Yamamat Al Khalediah
MCA Magnum Gold x Cosmopolitan J
7 - Unnamed Filly born 20.10.2015
Psytadel x Mauhiba J
8 - Unnamed Colt born 27.04.2015
MCA Magnum Gold x Bayan Al Khaled
Turki Al Rayyan x Basma Al Khaled
10 - Nour Al Khaled
Ibn Dahra Al Khaled x Ni Ma Abadi
11 - Unnamed Colt
Psytadel x Eureka KA
12 - Manal Al Khaled - In Foal to Ibn Dahra Al Khaled
Baydoun x Mansoura I
13 - Unnamed Colt born 17.09.2015
Fadi Al Shaqab x Donatella
14 - Nayla Al Khaled
NK Hafid Jamil x Nefertiti
15 - Unnamed Filly born 23.04.2015
Marquis x Bint Alia Psyche
16 - Ra'han Al Khaled
Ansata Safeer x Rawaad Al Khorafi
17 - Maya Al Khaled
Turki Al Rayyan x Magd Al Khaled
18 - TU Isaphira
Saphir III x Ibisca
19 - Yara Al Khaled
MCA Magnum Gold x Yamamat Al Khalediah
20 - Mauhiba Al Khaled
Ibn Dahra Al Khaled x Magd Al Khaled
Contact Details :
Nabil AlSobhi
-Mobile: 0561168709
-Email: nms.2003@hotmail.com
Hishame Bouzayene
-Mobile: 0551338274
-Email: h.bouzayene@kabholding.com